Guess what?
No bucks party, poker night or boys night is complete without a performance from one of the top 10 Australian strippers for 2016. If you've seen enough strippers and strip shows, you'll know not all are created equal. There are a large number of stunning adult entertainers out there. Not all can put on an unforgettable show. Only a handful are great. Most guys will only see a show of these girls calibre a few times in their lives. The cream of the crop, not only have bangin' bodies; they turn on the heat from the moment their performance starts. These girls love what they do. Check out our Gold Coast Strippers for the shows our girls can offer you.
Wouldn't it be great if you had not only a list of these great performers but also where to find them?
You bet! We've created the ultimate guide for you. Just imagine being the envy of all your mates other boys' nights when you knock it out of the park by securing a show with any one of our top 10.
Here in Australia we are lucky enough to have a number of top performers that are locally and internationally acclaimed. From local talent such as Miss Exotic Angel or Miss Firm through to Miss Nude World.
This article will feature the following strippers:
1) Danni Rocket
2) Castelle Edwards
3) Champagne
4) Chloe Rose
5) Delilah Daniels
6) Allegra King
7) MJ Montana
8) Cora Parr
9) Dallas Rayne
10) Scarlett Morgan
So let's get down to it.
The top 10 Australian Strippers for 2016
1) Danni Rocket QLD
A relative newcomer onto the showgirl scene but definitely a pocket rocket! This girl gives it everything. Danni is definitely one to watch as history has shown she is a force to be reckoned with. Danni first caught our attention when she debuted upon the competition circuit securing the Runner up Miss Honeypot 2013 and then made the national finals of the
Exotic Angels
competition for 2014, 2015 and 2016. Not satisfied with winning the Miss Exotic Fantasy 2015 title, she set out on a national tour and intensive campaign to secure the votes necessary to win the Miss Exotic Angel Australia 2015 title. Danni hasn't slowed down and is taking another bite at the Exotic Angels title for 2017.
You don't need to wait until a competition is on to see Danni perform though, as she regularly travels between Townsville and the Sunshine Coast in Queensland working private parties performing her highly requested 1 hour XXX Bonanza show that includes everything from pearls and lollipops to anal and champagne showers, or performing lap dances at one of her favourite clubs in Gladstone, the Office. If you're after a girl with a show that strays off the beaten path, then this is the girl for you. Book Danni and other Sunshine Coast Strippers here.
2) Castelle Edwards QLD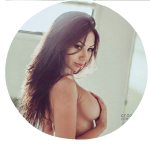 Castelle grabs your attention from the moment you lay eyes on her. She is simply stunning. Castelle has been catching our attention for a while now as she is an international Glamour Model that has been featured on the covers of Penthouse, Zoo, Picture, People and FHM. Picture Magazine thought she was pretty special (and rightly so) and voted her "Australia's Hottest Stripper". This is one girl that everyone wants to see. Adding to her impressive resume is Castelle's showgirl titles. She won Miss Pink Erotica 2015 and made the 2016 national finals of
Miss Exotic Angel
. Currently, she is the
Australia's Top Glamour Model
2016 winner.
Castelle is based on the Sunshine Coast, but regularly travels to Gladstone to work at the Boardroom and to Darwin to work at Sinsations. By all reports, she is a performer that agents are eager to have on their books as she always gets rave reviews. Her standout private party show is her deluxe double show with her equally hot doubles partner Holly Rose, booked through a number of Queensland agencies. If you're after an Gladstone Strippers xxx show that you can boast about to your mates, then this is the stripper for you.
3) Champagne WA
One of Australia's best known showgirls. Over the last 10 years she has honed her skills and is one of the most sought after showgirls in the country. This girl has a long and very impressive resume, as well as one of the most beautiful faces you will ever lay your eyes upon. Champagne learnt her chops in Adelaide's
Crazy Horse Revue
and first entered the showgirl circuit in 2006 under the Miss Nude banner. Since then, Champagne has been busy becoming an industry household name by securing national finalist positions in a number of stripping competitions. Currently, Champagne is the 2016 Miss Nude World Showgirl of the year holder.
Champagne is based in Western Australia but regularly travels to Adelaide to dance at the Crazy Horse Revue and The Firm. If you're keen to book a private performance with this luscious showgirl then you're in luck as Champagne is available for private parties through her own agency, Champagne Showgirls. If you really want to be impressed, then this is one strip club performer you cannot afford to miss.
4) Chloe Rose QLD
The new kid on the block. Chloe Rose has raced up the showgirl charts in a short amount of time. We credit some of this speedy rise to Chloe's love of being a showgirl. Chloe was a pole dancer before she became a showgirl and she loves it and believes that embracing the strip club showgirl circuit brings some class back into the industry. She loves the way dancing makes her feel and she loves knowing that people love watching her perform. This love truly shows in her performances and we are lucky enough to have her on
video
. Chloe is the current 2016
Exotic Angels
winner.
Chloe doesn't have a club she spends most of her time in, because she loves travelling around the country. You can keep up with Chloe's tour by following her Facebook page. Chloe only performs as a showgirl in strip clubs around the country but if you're keen to have her for a private party booking because of her great energy, she is available as a topless and nude waitress though. No matter which option you take, you won't be disappointed. We hope you are lucky enough to catch Chloe on one of her tours around the country in the near future.
5) Delilah Daniels WA
This girl's resume is huge. Just some of her awards include; Miss Pink Exotica 2015. Nominated for XX Rated Award 2012
S.T.A.R
awards. Nominated for the Showgirl and Entertainer of the year S.T.A.R awards 2016. 1st Runner Up 2016
Exotic Angels
. 1st Runner Up 2016 Female Entertainer of the Year S.T.A.R awards. As you can see, this girl has been working her way up the showgirl ladder for years now. And it has paid off. Delilah is a highly sought after xxx showgirl. You can book her through her Facebook page.
Apart from lighting up the showgirl scene, Delilah has also been making a name for herself in television appearances in shows like Underbelly and others, as well as a glamour model featuring in magazines from Ralph and Picture to Stylin magazine. Delilah is currently touring around WA. This is a performer you don't want to miss. She has a bangin' body and puts in the effort with all of her shows. Don't settle for less. This is one stripper that lives up to expectations. She is well known for her unique and interactive XXX shows but if you are after something more low key she works at Love & Rockets in Brisbane once a month.
6) Allegra King WA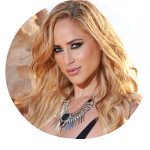 Did someone say Pole Dancing? This girl is the bomb. You have to check out her 'Battle Cry'
video
. Allegra is the Exotic Angels 2016 Pole Dance Champion and it deserves a mention that among other titles she is the 2015 Miss Nude Australia &
Miss Pole Australia
titles holder, the only adult entertainer to achieve both. This is a performer that lifts the bar to the stratosphere. If you are looking to experience what pole dancing is all about then this is one performer not to be missed. You will never forget her.
Allegra is based in Western Australia and you are likely to spot her performing at the Penthouse Club in Perth. If you haven't been there already, make sure you check it out. It's called the Penthouse Club for a reason. Allegra is one of their featured performers. So if you're in Perth and heading out for a boy's night, you need to make sure you treat yourself and go and watch Allegra up close and personal.
7) MJ Montana WA
We can't possibly have a top 10 list without having at least one heavily tattooed smoking hot chick being mentioned. MJ Montana is a true FIFO showgirl, travelling all over the country. From the Gold Coast to Darwin and back to Perth. She is a girl in high demand. Like all of our other top 10 ladies, MJ Montana's resume is huge, with awards and magazine appearances going back for years. This year alone has seen her perform in the
Exotic Angels
final, be awarded the Miss Exotic Heat 2016 award, the
S.T.A.R
Picture Showgirl of the year 2016 award and is nominated for the 2016 Australian Adult Industry Awards. You can book her through her website.
MJ Montana is one of those adult entertainers that embrace a wide spectrum of adult entertainment opportunities. From topless waitressing, to strip club work and XXX shows. You can find MJ at Sinsations strip club in Darwin and performing pub shows when she's not at the Voodoo Lounge in Perth or doing the pub circuit in WA. No matter what your entertainment needs, MJ Montana is sure to be able to help you out and be a hit at any event.
8) Cora Parr QLD
An outstanding performer dominating the Gold Coast XXX showgirl scene. Anybody who is a connoisseur of adult entertainers and glamour models knows who Cora Parr is. Whilst Cora is not a current title holder she is an all-time great and still commands a crowd and as such, she is still a current top 10 Australian Stripper. Cora has been performing as a
Gold Coast stripper
for a number of years now and is known for her professionalism and high energy shows, she's even been known to perform a fire breathing show. Over the years, Cora has racked up an impressive amount of great reviews. Maybe you will be the next person to give her a great review?
The best way to book Cora is through Premier Girls, for one of her xxx specialty shows or for a smoking hot lesbian duo with her equally hot duo partner. If you want to see a girl shoot a vibrator 4m out of her vagina or deep throat 8 ½ inches, then this is your girl. If you are after a girl who oozes sex appeal and has an award winning smile and personality to match then Cora is an entertainer you should not pass up.
9) Dallas Rayne VIC
Did someone say Miss Erotica extraordinaire? Dallas has dominated the showgirl competition circuit since 2012. Not only is she a Miss Erotica finalist for 2015, she has taken out various other competitions including Miss Pink and the
Exotic Angels
. This girl is jaw dropping gorgeous. When you imagine an adult entertainer in your mind, Dallas Rayne ticks every box. Well known throughout Melbourne, you can catch Dallas by booking a private booking though a number of agents. Make sure you check out her 'Queen of the Nile' video.
Dallas is one of those rare performers where you just can't get enough of her. And she has been happy to oblige by becoming a recognised porn star on top of her showgirl trade. If you are having a bucks party or boys night in Melbourne, then this is a girl that should be high on your agenda. No ifs. No buts. It doesn't matter what your preference, a strip club performance or a private booking, either way, this is one girl you don't want to miss.
10) Scarlett Morgan QLD
Scarlett is a favourite among agencies, other strippers and waitresses and customers because not only is she stunning, she is one of the easiest going girls you will ever meet. Scarlett clearly loves her job as she has clearly immersed herself in the adult entertainment industry and enjoys documenting her escapades on her
website
. If you have had a look, we are sure you will have discovered that Scarlett is pretty fun. Scarlett started out in television as the host for 'Cooking in the Raw' and the Titans Sheds commercials. From there she branched out into glamour modelling. People magazine was the first to see her potential and voted her spunk of the year for 2009. From there, Scarlett quickly carved out a name for herself as a regular model for Penthouse.
Clearly glamour modelling wasn't enough for Scarlett and she decided to join the adult entertainment agency and strip club world. Scarlett is available for a wide range of services, from bikini waitressing through to raunchy strip shows and lap dances. This is one girl that always gets rave reviews. When she isn't performing at the local strip club in Gladstone or Perth, she is available for private bookings. You can book her through her website. Next time you need a girl in QLD for a private party, contact Scarlett.
Conclusion
We hope that when you next head out to your local strip club or book a stripper for your next boy's night, that you are lucky enough to have one of the lovely ladies mentioned in our top 10 perform for you. It will definitely be a show to remember. If you have found this post useful, you may like to read our post on how to book a topless waitress and get what you paid for here. The same principles apply when you are booking a stripper. Keep an eye out for our other posts in this series, we will be releasing 'The top 10 Queensland Strippers' soon.
So, how about you? Have you seen any strippers lately that deserve a mention? We'd love to hear about them in the comments.
If you enjoyed this post, I'd be very grateful if you'd help it spread by emailing it to a friend, or sharing it on Twitter or Facebook. Thank you!